Guidance of Security Trade Control for overseas subsidiaries and affiliates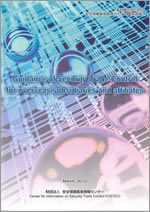 Hardcopies
Price: JPY 3,300-
Written in English, Paperback with 127 pages with CD-ROM
CISTEC (Published: March 2010)
How to Order Hardcopies
---

○ Words from the authors:
There is no argument that we should achieve a peaceful world that is safe and secure. However, it seems that human beings are going in the opposite direction especially following the events of September 11, 2001.
From the viewpoint of security trade control, in the past the targets of concern were just the nations in conflict, but at present we have to be concerned with terrorist organizations as well as the nations supporting them. It is also the fact that the strategy to procure dangerous items has become more and more sophisticated and the rapidly developing logistic system of a globalized world makes it difficult to prevent the proliferation of concerned goods and technology. The typical strategy of terrorist groups or problem states is to use a third country where export control regulations are still insufficient as a circumvention point. The export control system so far led by a limited number of nations with advanced technology is becoming insufficient.
We strongly believe that the contribution for achieving the non-proliferation of dangerous goods and technology in any case is an important social responsibility for enterprises that can only continue their business activities with international peace and security. The implementation of an ICP in subsidiaries in foreign countries can be one of the contributions.
CISTEC issued "Security Trade Control Guidelines" and "Illustrative Examples of Internal Control Program" in 2003. They are very convenient references. However, the most important point for the readers in each subsidiary to strengthen their security trade control (for instance, to prevent illegal re-routed export) is to understand the concept of security trade control that exists in the background of every article of the Illustrative Examples of ICP. This guidance is made for the executives and employees of Japanese subsidiaries in foreign countries to understand ICP and learn security trade control for themselves.
We hope this guidance will be of help to companies implementing security trade control systems.
Look inside of this book for:
Table of Contents

---
Store at CISTEC: 9:30 - 17:00 M-F